Okay, this was one of my special challenges over at Serendipity Scrapbooks for the May Mayhem month-long crop. It was tough, but so much fun at the same time!
Here are the details. You have to have someone else (preferably a non-scrapper) randomly pick out the following items for you to make a kit of sorts:
-3 patterned papers
-1 set of alphas
-5 embellishments
You MUST use everything in the kit, at least in part (so if it's a whole pack of embellies, you have to use at least 1 from the pack, at least some of each paper, etc.)–you can't leave anything out. And, you can't add anything either, except ink if you want. So, your kit is what you get. My husband picked mine out for me and he swears it was random, even though some things kind of match, like the papers. Although I think he just got them all from the same package b/c that's how I store my papers–by manufacturer and collection.
Anyway, here is the kit I had to work with: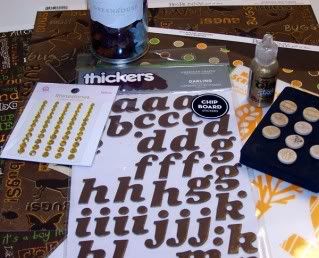 And, here is my completed layout. If you have any questions about how I used something or how I did something using only the products there, please feel free to ask.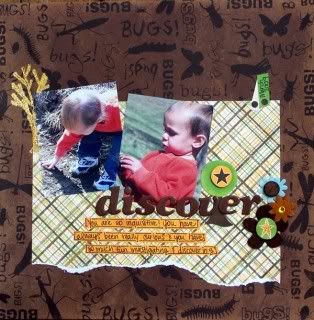 This was such a fun challenge though, and the submitted layouts so far have been very creative and just great. Everyone seems to be having a lot of fun with it. I would LOVE for some of you to participate! Feel free to sign up for the challenge over at Serendipity Scrapbooks, or just do this one and show me your results and kit.
Also, I have to share that I got my July/August Memory Makers Magazine. It was very exciting to see my layout in print, and also to see lots of friends in there as well! There are some great layouts in this issue, which makes me all the more sad that they are ceasing publication after the Sept/Oct issue :(
My layout is one of the many featured in the Reader Idea Gallery. The topics were firsts and new beginnings. As I flipped through that section and read the journaling on the layouts featured there, it really struck me how much of our lives we put into our pages. I got a little sentimental with these ladies as I read about their trials, triumphs, and new beginnings. It's awesome how much we can share through this hobby–both with each other and with our families present and future. It is amazing to me the things that I can express through my journaling and pages that my family might not otherwise readily see.
Finally, don't forget the
weekly spotlight and giveaway post
(Lisa T. Howard, you especially should check out this entry…), and get yourself registered, you can comment every day through Thursday. And, more exciting news concerning my spotlights, this week's spotlight post is featured on
Scrap Scene
today! Please feel free to go over there for a little visit and leave my post some lovin :)