One of the suggestions I received on my giveaway post was to include more tutorials. I used to post tutorials a bit, but have kinda gotten lazy with it. So, here we go.
This project is something that I had in mind to try for a while, but I wasn't completely sure how to make it work so I put it off a bit, until I finally decided to just go for it and it was actually easier than I thought.
Anyway, I love making the scallops on this punch, and today I'm going to show you how to make a trim using it as well.
You will need your punch and a strip of patterned paper, approximately 1/2″ wide.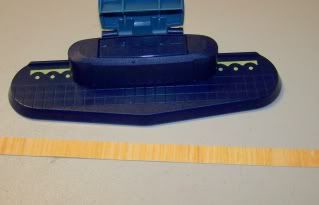 I will admit that this was a little tricky at times, but overall it was easier than I thought it would be. I recommend that you start in the middle at first, so that you can easily line up both sides of the paper. For this, we will NOT be using the back guide that you can push your paper up against. You will have to eye it and line it up with the visual guide provided, as shown in the picture. Do not push your paper all the way back as you normally would.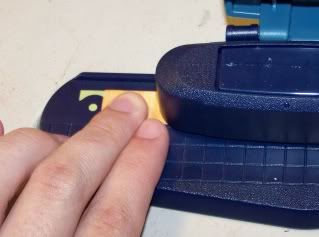 After you have made your first punch, again use the visual guide to line everything up. On one side you can use the straight guide, just like you did in the first step, and on the other side you can use the holes, and make sure they line up.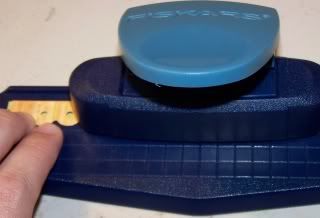 Once you have punched the first side entirely, turn the trim over to punch the other side. Again, use the visual guide to line everything up, as you see in this picture. Again, I started in the middle, just because that was easier for me.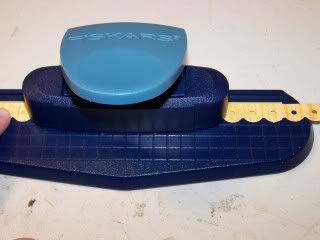 Here is another picture of that. Just keep feeding it through and lining everything up as much as you can. When this gets a little tricky is when you are nearing an end and only have 1 side to line up, it's kind of harder to get it straight at that point, just make sure everything is lined up as well as you can and remember practice makes perfect :)
And, here is a picture of my finished trim :)
And, there you have it :) I love trims, so I was very excited to discover this! Please let me know if you try it and link me up if you create a project using this technique.
Also, remember the weekly giveaway that ends tomorrow, the prize this week is for a gift certificate to Scrapperie!