I have an exciting new store to spotlight for all of my bargain-hunting friends! If you like the big-lots scrapping section and the scrappy finds at the Target $1 spot, then Scrapbuck.com is for you. There are literally thousands of items in this store, and approximately half of those are $1.00!
You can see that I have a ton of stuff here, including name brands like K&Co, Making Memories, Autumn Leaves, Imaginisce, Chatterbox, Lil Davis, EK Success, Karen Foster, Reminisce, etc. They have tools, adhesives, pens, papers, stickers, chipboard, jewels, albums…you name it. Here is what $30 looks like from there: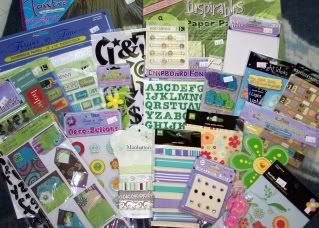 Here are some of the projects I made, using my kit from above. This first one is a little frame that I made using the black cardstock and handmade paper. I used the imaginisce rub-ons, using only the stems, and then I added the beautiful K&Co. flowers, Forever in time gem brads, and MM ribbon.
Here is a layout of our cat. Chad rescued him from the woods one day and brought him home. The colors were perfect and I love the texture of these green papers! And, check out the great font on those glitter letters! I got a package w/ 2 of each letter (I made the last "t" from an "f") and they are only like $1.50 in the store!

More glitter letters, and this time I used some Autumn Leaves ribbon. I also used the gorgeous felt flowers. It was originally all one piece that was connected, but I did some cut work and reattaching to make the shapes I wanted for this page.
And, more of that great handmade paper and a BIG chipboard flower, with glitter and gem…completely ready to just attach to the card. I added the greeting with more of those glittery letters and oila, instant card!

Laura, the DT coordinator has generously offered that Scrapbuck.com will donate a prize package for our giveaway this week! So, to be entered just leave a comment on this post telling us all your best money-saving tip related to scrapbooking.
***************
And, the winner of last week's gift certificate to Scrapperie Kits & Boutique, chosen by random.org :
Jill Sarginson said…
Here's my quote:A perfect summer day is when the sun is shining, the breeze is blowing, the birds are singing, and the lawn mower is broken. ~James Dent
Love your blog!
Congrats, Jill. Please EMAIL ME your email address so that Sandi can get you a gift certificate to the store :)