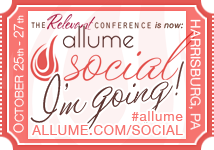 Some of you may have noticed this pretty pink sign on my sidebar.  Yes, it's true.  I'm going to Allume Social!!!  I'm so grateful for the opportunity that I have been given in this, and it comes at the generosity of Christin Slade from Joyful Living Media.
I have wanted to attend a conference for a while now, but with our tight budget, I knew it wouldn't be a possibility unless God stepped in, and in a big way.  I knew that we could contribute very little, so even a sponsored ticket wouldn't have gotten me there.
Christin, earlier this summer offered a series of posts on her business blog, giving tips about approaching companies with sponsorship requests.  She ended that series with an announcement that she was offering a generous sponsorship for Allume Social—including not only ticket to Allume, but also money towards travel expenses!
I took a deep breath, said a prayer for God's will to be done, and sent off my application/request to Christin.
Now, I'm making plans to attend the sold out Allume Social Conference!
For this introverted homebody, it's going to be a huge step, but I know that God is all about pushing us out of our comfort zones sometimes, and I'm excited for it.
I've reserved my plane ticket, found a roommate, and have been chatting up other Allume goers via twitter (which I am also brand new to, by the way!).
Another aspect of Christin's sponsorship was a mentorship through Joyful Living Media.  If you are a blogger looking to grow your blog, or if you feel like you're hitting a wall and aren't sure what it is, Christin is the perfect person to help.  She offers affordable blog consultations and critiques to help beginner to intermediate bloggers get over some of the hurdles we might encounter.  Christin has her own successful blog at Joyful Mothering, and she works with some of the biggest names in blogging, such as with Sarah Mae and Allume Social.  So, she knows how this blogging stuff works, and is in a position to help others figure it out as well.  She just announced some exciting changes coming up on her business page, including some great helps for bloggers, even if you don't get a consultation, so be sure to check it out.
And I will be sure to share every detail from the Allume Conference :)
Have you ever attended a blogging conference?  If so, what are your tips for a newbie like myself?