This post brought to you by Buffalo Wild Wings. All opinions are 100% mine.
Fall is for Football (& Buffalo Wild Wings)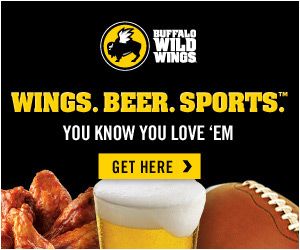 For many people, Fall represents cooler weather, colorful changing leaves, and the start of the "Holiday Season" with approaching Thanksgiving. And those are some of the reasons I love fall as well.  This picture of my oldest son is a few years old now, but I love it. He had so much fun moving around those pumpkins!
For our family, fall is all those things. However, fall also means something else.
Football.
My husband has been a Washington Redskins fan since Jan. 1983 when he really watched his first Superbowl and they won. Now that our boys are old enough to watch it with him, they are quickly becoming Redskins fans as well. My 6-year-old is quick to tell everyone that his favorite football players are RG3 and Alfred Morris.
And the tone of Sunday afternoon in our household might just be determined by the Redskins win or lose, though my husband is working on that one :)
All this sports-related craziness and male-bonding is a lot to take in sometimes for a girl who grew up with all sisters and in a household where we didn't know diddly about professional sports–though we certainly followed our KY Wildcats!
Anyway, unfortunately for my life-long-Redskins-fan hubby, he's never lived anywhere near Washington DC. He moved from Illinois to Kentucky, but didn't gain anything as far as being in the television range for his "home" team.
His solution has been to catch some games at his favorite football-watching restaurant, Buffalo Wild Wings. Although there are other places to watch such a game, most of them are bars, or those places that focus on certain women's body parts! Buffalo Wild Wings, on the other hand, is completely family-friendly, so we can join him for watching part of the game.
I've even managed to learn a thing or two about football in watching along with my hubby and our boys.
And, the bonus at Buffalo Wild Wings is that the food is tasty, and decently priced as far as sit-down places go. I'm not a fan of wings, but I do love the burgers and loaded down potato wedges there–yum! They often have specials, such as Wing Tuesday and Boneless Thursday, and they have some great kid-friendly choices as well
You can Follow Buffalo Wild Wings on Twitter, or Like Buffalo Wild Wings on Facebook.
Are you a Foothball Family? What team do you root for?